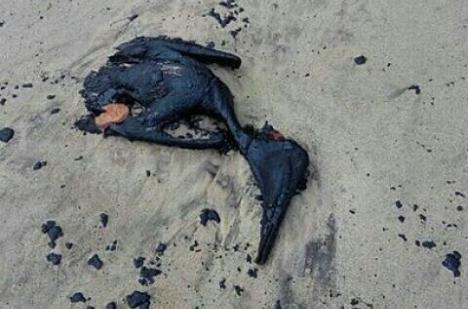 Oil slicked pelican. Photo: Venezuelan social media sources
PORT OF SPAIN, Trinidad — Venezuelan media and social networks have reported that oil from the April 23 Petrotrin oil spill in Trinidad has slicked beaches as far away as Margarita Island, where several beaches had to be closed.
At first Petrotrin claimed that 20 barrels of oil (3,179.75 litres) reached the sea but that was later revised to 300 barrels (47,696.2 litres).
Spanish online newspaper El Diario reported that the spill is now the subject of an investigation by the Venezuelan Public Prosecutor's office.
El Diario stated that 61 Venezuelan NGOs are demanding compensation from the
A video released by Conbive Civil Association for the Conservation of Venezuelan Biodiversity showed volunteers cleaning what is claimed to be oil from the Nordiqui beach in Los Roques islands, normally home to surfers and kiteboarders.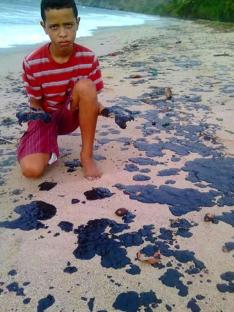 Photo: Venezuelan social media
Los Roques is a national park. It is where Venezuela's most beautiful beaches are and an important area for both biodiversity and tourism.
The oil at Los Roques could be from the April 23 Petrotrin oil spill but it could also come from a tanker discharging its bilges or the oil terminal at Puerto La Cruz.
The only way to ascertain is through testing. All crude oil has signature chemical compositions.
Trinidad and Tobago energy expert Dr James Lee Young was asked for his opinion on oil from the Petrotrin April 23 oil spill reaching Margarita and Los Roques.
"The oil that was spilled was RMG 380 centistokes Fuel Oil which is a black, viscous bunker oil used for ships and does look very similar to what is being washed up in Venezuela.
"The problem I have is that the reported 300 bbls is actually not a lot of oil and after so long at sea should have been dispersed or washed ashore in Guiria. For this oil to now have made it out the Grand Boca and to have hit Margarita Island and now Los Roques means that there is probably a lot more than 300 bbls floating around out there.
"There were reports that Tank 70 had over 12,000 bbls of oil in it when it leaked but that the majority was recovered.
"Either 1) the estimate of 300 bbls is a gross underestimate or 2) the oil being washed up in these islands in from a different source or 3) these islands are really unlucky and have been hit by a very small spill that has not dispersed. Until samples of the spill are taken and tested it is all a guess," Young said.