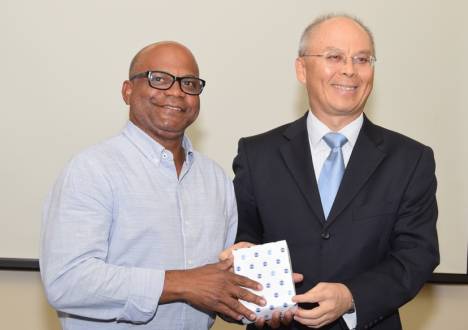 Tourism Minister Lindsay Grant (left) receives token from George T. K. Li, leader of the Taiwanese delegation
BASSETERRE, St Kitts (SKNIS) — Minister of tourism, Lindsay Grant, welcomed more than 30 investors from Taiwan who are currently in St Kitts and Nevis to showcase their products and services, as well as to seek opportunities to invest in the federation.
"We are very thrilled that you would have made this visit in your continued quest to build partnerships with us here in St Kitts and Nevis in the areas of business, tourism, trade, services, and cultural reciprocity among others," Grant said, during a brief ceremony on Thursday. "You are all from various backgrounds and so I am elated to be among some of the best minds of your beloved country."
Grant briefly highlighted the relationship between St Kitts and Nevis and Taiwan, which dates back to 1983.
"Over the years, the common interests that bind us and underpin our relationship have become much broader and deeper. We are coordinating and cooperating with each other in far more areas than before," he said. "Our communication and coordination have been deepening with regard to major international and regional issues and the strategic nature and global significance of our relationship are more evident than ever."
The minister also spoke to the many benefits to which many nationals and the country alike have gained, and noted that it is his belief that the investors will bring even more benefits to the federation. Grant spoke to the recent initiative that granted citizens of St Kitts and Nevis a 30-day visa free entry into Taiwan, describing it as a tremendous achievement.
"Further, we continue to benefit from your scholarship programme and now boasts a cadre of professionals in various fields who would have graduated from the best Universities in Taiwan," he said, while making mention of the 13 students who were recent recipients of Taiwan scholarships for the academic year 2017-2018. "This for us is symbolic, as we continue to invest in our nation's future. I can also speak to the fact that our government has signed an agreement with Taiwan for an initiative that is expected to improve food production and preservation in the twin-island federation."
He added that the federation also stands to benefit from future projects, including, financial support in areas of construction, infrastructure development, public health and capacity building "which further signals your incredible commitment to us".
The tourism minister offered best wishes for further growth of development between both countries, as well as with the investors.
The ceremony was attended by a number of dignitaries including government officials and members from the business community.