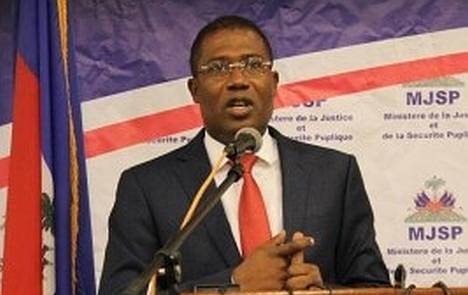 Minister of Justice, Camille Junior Edouard, speaks about the case of Guy Philippe
PORT AU PRINCE, Haiti — On Friday, during a presentation to the media of his performance report as the head of the ministry of justice, Camille Junior Edouard, following a resolution adopted by the Senate in support of senator Guy Philippe, explained that, as minister of justice, he had processed Philippe's arrest and transfer to the US justice system, under the principle of continuity of the state, not mentioning "extradition" at any time.
In addition, he pointed out that since 2002 until his arrival at the ministry, "81 people were arrested and handed over to the American courts" [still avoiding the use of the term 'extradited'], stressing that "Guy Philippe, who is on the front page of the news, is only the 82nd case to be dealt with by the ministry of justice," HaitiLibre reported.
"We must stop this hypocrisy," the minister insisted, calling on society to question the interests and foundations of reactions in connection with this particular issue.
Noting that Philippe at the time of his arrest "was not covered by the principle of immunity" specifying that "this protection granted by law to parliamentarians, begins on the day of their taking of the oath."
Finally, he recalled that crimes such as drug and human trafficking were international offences, irrespective of the place or territory in which they were committed.