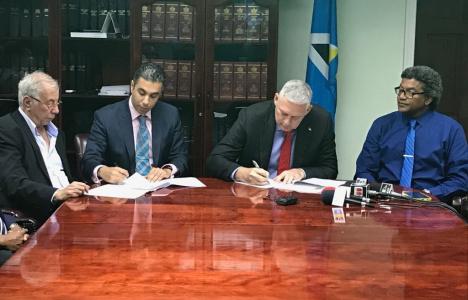 From left to right: Kamal Shehada, development director, Range Developments; Mohammed Asaria, vice chairman Range Developments; Allen Chastanet, prime minister of Saint Lucia; Bradley Felix, minister of commerce, Saint Lucia
By Caribbean News Now contributor
CASTRIES, St Lucia — Range Developments, an international developer focusing on luxury hotel projects in the Caribbean, signed definitive agreements with the government of Saint Lucia on Tuesday to continue the development of the Black Bay Master Development.
The heart of the Black Bay Master Development will consist of a luxury branded hotel and villas set on 180 acres on the beautiful southern tip of the island. The site is on the Caribbean southwest coast, within easy reach of the international airport and the Pitons, the world famous heritage site. The master development will be developed in a number of phases.
The luxury hotel, the anchor of the master development, will be developed under the country's citizenship-by-investment programme and will comprise 180 rooms.
"We have been working with the developer and are grateful for their patience in working with us on getting to this point of such a project which will benefit everyone," said Allen Chastanet, prime minister of Saint Lucia. "I am looking forward to the commencement of construction of this project which coincides with our overall development plans for Saint Lucia."
Range Developments has received plaudits and awards both for its designs and robust and innovative corporate social responsibility activities.
"This will be our third major luxury development in the Caribbean and we are delighted to be working with the government of Saint Lucia," said Mohammed Asaria, vice chairman of Range Developments. "Range is aggressively expanding in the Caribbean. The Park Hyatt St Kitts will be completed in the coming months and Kempinski Dominica is advancing with pace." 
The Black Bay hotel will be designed and built to the highest standards in keeping with Range Development's ethos.  Range will imminently be announcing the hotel operator for the development. The project will create about 500 jobs on the island during construction, with a similar amount once the hotel is operational.
 
Saint Lucia's citizenship-by-investment programme is aimed at encouraging investment in the island. Investors not only have a chance to invest, but assuming they meet the stringent requirements, apply for citizenship of the country, with all the benefits of full citizenship.
Range Developments is an international property developer focusing on high-end hotel resorts in the Caribbean that are well-designed, sustainable and desirable. The Park Hyatt St Kitts won the prestigious Best New Hotel Construction and Design St Kitts and Nevis award at The International Property Awards 2014-2015. It also won the coveted award of Best New Hotel Construction and Design in the Caribbean 2014-2015.