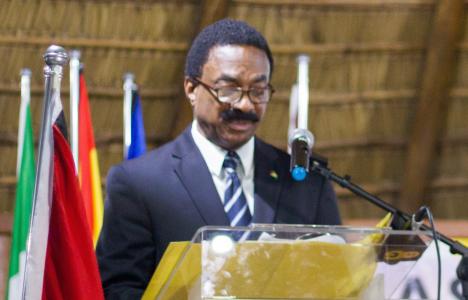 Attorney General and Minister of Legal Affairs, Basil Williams. Photo: Neketa Forde
GEORGETOWN, Guyana — It has been just under two months since the APNU+AFC Coalition government in Guyana first responded to the submissions of youth activists at the Inter-American Commission on Human Rights on the government's intention to hold a referendum on whether homosexual acts of intimacy should remain a criminal offence.
On Monday evening at a joint reception hosted by the delegation of the European Union to Guyana and the Society Against Sexual Orientation Discrimination (SASOD), in observance of International Day Against Homophobia, Biphobia and Transphobia (IDAHOT) attorney general and minister of legal affairs, Basil Williams, reiterated the call for a referendum in his remarks.
The minister said, "In addressing the issue… the government noted that the Guyanese people are to decide in a referendum whether homosexuality should remain a criminal offence." 
According to Williams, the government believes that no person should be discriminated against on the basis of sexual orientation and gender identity, "since every citizen has equal access to all Guyana has to offer," he noted, as enshrined in the Guyana Constitution.
The minister also referred to Article 149 of the constitution on the rights against discrimination, which includes sex and gender, and Article 149D, which provides equality of the enjoyment of all fundamental rights and freedoms.
After calling for tolerance from the Guyanese society, Williams concluded by saying that Guyanese must foster a cultural shift.
"This must begin with our social behaviour. Our language must change. We must document and expose allegations or reports of human rights violations based on sexual orientation and gender identity promptly. They must be impartially investigated and perpetrators held accountable and brought to justice. Hate speech and condescending attitudes reduce tolerance for homosexuality and encourage fear for the unknown. They must be shunned and penalised. If we want change it must begin with each of us," he added.
Working together for a cohesive society
Also delivering remarks at the reception was minister of social cohesion Dr George Norton who spoke of government's commitment to bridge gaps within and across communities and the work in advocating for the tolerance and unity for all Guyanese. He echoed similar sentiments expressed by the attorney general that no person should be discriminated against on the basis of sexual orientation and gender identity.
The social cohesion minister explained that his ministry not only advocates for inclusion, but practices it as well. Just last week Norton presented to prime minister and first vice-president Moses Nagamootoo the completed five-year strategic plan for promoting and enhancing social cohesion in Guyana.
In this regard, Norton acknowledged SASOD as a member of the ministry's social cohesion peer group who played a key role in designing and guiding the national consultation process for the formulation of the ministry's strategic plan.
He revealed that re-examination of laws that discriminate against LGBT persons has been garnering the attention of the APNU + AFC administration noting that "government will continue to work to ensure that LGBT persons are not marginalized or excluded because of their sexual orientation or gender identity".
EU commits to supporting the LGBT rights movement, calls on government to repeal discriminatory laws
European Union (EU) Ambassador Jernej Videtic stated that the EU will continue working with partners in Guyana and around the world to advance the human rights of all people regardless of their sexual orientation and gender identity.
"When speaking about the rights of LGBTI persons, we've always made it clear that it is not about introducing new or different rights for one group of people. It is about the same human rights being applied to every person everywhere without discrimination," the ambassador said during his remarks. "The EU, similarly to the United Nations, is committed to the principle of the universality of human rights and reaffirms that cultural, traditional or religious values do not justify any form of discrimination, including discrimination against LGBTI persons."
Videtic stated that great obstacles remain in many places around the globe, and discrimination and violence against LGBTI persons is still widespread, including in Guyana.
Citing the government's commitment, agreeing to "strengthen the protection of LGBT persons" and "to continue its effort in eliminating discrimination against LGBT people starting with the review of its related legislation" after the last Universal Periodic Review by the United Nations in 2015 where it was recommended that Guyana change its laws in order to guarantee better protection to LGBT persons, the ambassador reiterated that the European Union therefore encourages the government of Guyana to repeal the laws criminalising same-sex intimacy and cross-dressing.
Minority rights cannot be put to a majority vote
Delivering the keynote address, member of SASOD Women's Arm Guyana (SWAG) Akola Thompson spoke of her personal experience with her family and battling social constructs in order to understand for herself and educate others on sexual orientation and gender identity in a very patriarchal, hetero-normative society.
"What we end up with here is a culture in which any deviation from normalcy is punished. We have queer men and women afraid to be themselves because they want to remain a part of a traditional family. Or they want to remain protected from the violence society will mete out against them. Often, we get a bit of hope that our identity will someday not be attacked when we hear the words of the leaders we elected to represent us tell us that they will respect our right to exist. Instead, what we get are threats of a referendum that is set up to further marginalize us, and commendable but still empty, unfulfilled promises to recognize our rights," the human rights activist said.
After extending his appreciation for the government's partnership through the social cohesion ministry and European Union's support for SASOD's advocacy work, SASOD's managing director, Joel Simpson, expressed his outrage in invited comments to the media that the coalition government is calling for a referendum to put the rights of a minority group to a popular vote.
"A referendum on any human rights issue is the anti-thesis of human rights. Human rights exist to protect minorities from the tyranny of the majority. The attorney general cannot, on one hand, say that human rights are universal, no one should suffer discrimination based on sexual orientation and gender identity, but on the other hand, say we're putting the same laws which discriminate against this minority group to a popular vote for the bigoted majority to decide whether to keep our communities criminalized or not. Those positions are polar opposites," he said.
The director expressed that SASOD views this call for a referendum as a very backward and cowardly political move by the coalition government.
"The APNU + AFC Coalition was elected based on promises of equal rights, justice and a good life for all Guyanese. No exceptions. LGBT Guyanese are entitled to all the rights heterosexual Guyanese have," he added.
He recalled that government's 2015 manifesto committed to "putting measures in place to ensure that all vulnerable groups in our society, including … those marginalised because of sexual orientation are protected and not discriminated against."
"This call for a referendum does not fulfil that commitment. My rights, the human rights of the communities we represent and serve, are not going to be determined by a popular vote. We reject this call for a referendum, outright. SASOD and our local and international partners will do everything in our power to oppose this call for a referendum on whether our privacy and other rights should continue to be violated by these insidious, discriminatory laws," Simpson concluded.