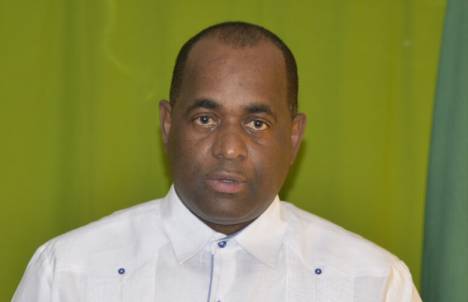 Prime Minister Roosevelt Skerrit delivering a national address on Friday
ROSEAU, Dominica — In a surprise national address on Friday, Dominica's Prime Minister Roosevelt Skerrit expressed his regret "at the unfortunate turn of events with respect to a few persons holding diplomatic passports becoming persons of interest to foreign countries and external security organizations" and acknowledged that such incidents have highlighted the need for improvement
"As I have indicated before, a professional review of our processes of issuance of diplomatic and official appointments which commenced last year is ongoing. However, the government believes there are a few measures that can be put in place immediately to tighten safeguards and to address concerns of citizens and other stakeholders. We have decided therefore that an interim policy will be introduced. This will be gazetted next week and be available on the government website for review by all," Skerrit said.
According to the prime minister, this interim policy will, among other things, speak to the following:
• Effective immediately, all non-nationals under consideration for diplomatic and consular appointments will be subjected to the same due diligence requirements as persons applying for citizenship under the citizenship by investment programme of Dominica.
• Henceforth, not only would a prospective appointee have to meet and satisfy the requirements of the government of Dominica, but that person would also have to be cleared by an internationally rated and recognized global security agency that would carry out the necessary due diligence exercise.
• This will include ensuring that they do not have any criminal record, are of good reputation and proven competence, and possess the requisite skills necessary to function in the designated role. Where applicable, there must also be declarations on source of funds and disclosure of business activities of the proposed appointees.
• All future consular and diplomatic appointments shall be for a period of no more than three years at any one appointment.
• There will be more rigorous monitoring of all appointees to ensure that these persons are doing an effective job for the country and that they continue to be held in high regard by their peers and in the country in which they are representing Dominica's interests.
The opposition United Workers Party (UWP) said in a statement that the prime minister had "validated the concerns of outraged citizens by admitting errors in the administration of the nation's diplomatic passport program."
"His marked shift in tone comes after two months of heightened political tensions in the fallout of a CBS 60 Minutes exposé of the citizenship by investment program," the UWP said.
Skerrit in turn accused the opposition of conducting a "concerted and orchestrated campaign against the citizenship by investment program" which, he said, led to "incidents of looting, burning and other forms of vandalism, instigated by irresponsible politicians".