By Anthony L Hall
Bolt insisted this would be the final individual race of his storied career – his swan song. This is why everyone was so anxious for him to go out on a high note.
Alas:
 
Olympic champion and world record holder Usain Bolt finished third in the men's 100 meters in 9.95 seconds at the IAAF World Championships in London on Saturday evening. 2004 Olympic champion Justin Gatlin of the United States won gold in 9.92 seconds with his compatriot Christian Coleman taking silver in 9.94.
(Sports Illustrated, August 5, 2017)
What gives this loss so much pathos is that everyone knows it's the type of loss Bolt feared most. For he always said he never wanted to become one of those champions who stays around too long and ends his career being upstaged by an upstart.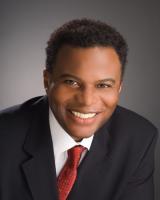 Anthony L. Hall is a Bahamian who descends from the Turks and Caicos Islands. He is an international lawyer and political consultant – headquartered in Washington DC – who also publishes a current events weblog, The iPINIONS Journal, at http://ipjn.com
Taking his final bows after his gold medal performances at last summer's Rio Olympics would have sealed an unblemished legacy. Now, for the rest of his life, he'll be thinking himself foolish for not doing so. Because, sure enough, upstart 21-year-old Christian Coleman upstaged him in this farewell race.
But what must make this loss so humiliating is that an "old man" upstaged him too. After all, Gatlin is 35 years old, which makes Bolt look like a quitter for retiring at 30. What's more, Gatlin denies him the crutch of old age, which Bolt could have leaned on to justify his retirement and/or rationalize this loss.
But God help him if foolish pride compels him to forego retirement to redeem himself. Because I fear he'll just end up like a junkie chasing the dragon …
Incidentally, the look of anguish on Bolt's face – when it struck him that he did not win – rivals that look in Edvard Munch's most famous painting. Priceless!
Of course, my August 3 commentary makes clear that I thought upstart Canadian sprinter Andre DeGrasse was the only person who could upstage Bolt on this putatively ceremonial occasion. I felt certain the fix was in when DeGrasse (Bolt's Puma teammate) withdrew at the last minute, presumably ceding the stage to the elder sportsman. But hey, who knew?
That said, it's noteworthy that resounding jeers greeted Gatlin when he was introduced for this race. Because those jeers foreshadowed critics bringing up his four-year suspension in 2006 for performance-enhancing drugs (PEDs) either to qualify his feat or to mollify Bolt's defeat.
But I maintain that the only difference between Bolt and Gatlin in this respect is that Bolt was smarter, luckier, or better protected. Bear in mind that Lance Armstrong managed to end his career without getting caught … too.
Perhaps more foreboding, though, is that the IOC has already stripped Bolt of one of his nine Olympic gold medals. Granted, this was because a member of his relay team tested positive. But this did not stop me from imputing guilt by association in "Doping Charges Strike Usain Like a Lightning Bolt," February 3, 2017. Because I am more persuaded by the proverb
Birds of a feather stick together.
Indeed, it's noteworthy that Yohan Blake also ran in this fateful race, coming in fourth. For he is just one of a suspicious number of Bolt's Jamaican teammates who, like Gatlin, have returned to competition after testing positive for PEDs.
Actually, this might explain why Bolt was so keen to defend Gatlin against not just jeering crowds but sneering competitors as well. Whatever the case, I remarked on Bolt's guilt by association with his Jamaican teammates in "Drugs as Rampant in Track as in Cycling," July 16, 2013.
Frankly, Carl Lewis is the last sprinter who I am absolutely convinced won this event drug free. That was at the IAAF World Championships in Tokyo way back in 1991. It's too bad that, far from being the fun and lovable guy Bolt always was, Lewis was always an arrogant and surly jerk.
But the irrepressible prevalence of PEDs (in all sports) is such that I think they should be legalized.
Policing drugs in professional sports is not only Orwellian; it's utterly futile. After all … athletes have always, and will always, do or take anything that might give them a competitive advantage. And if what they do or take poses no harm to anyone except themselves, who cares?!
This enlightened attitude towards performance-enhancing drugs would have precluded the 'scandals' that now threaten the professional careers of Tour de France Champion Floyd Landis and Olympic Champion Justin Gatlin (100m); to say nothing of sparing them international ridicule as pathetic liars and cheaters.
("A Plea for Landis, Gatlin, et al: Legalize Drugs … Especially in Sports," The iPINIONS Journal, August 3, 2006)
Other commentaries like "Jones Admits Using Steroids: Why Marion, Why…?" October 12, 2007, chronicle my cynicism.
Meanwhile, Gatlin served that suspension at the peak of his career (ages 24-28). That he's the world champion today is an undeniable testament to his (natural) talent and hard work. So please think twice before joining the ignorant crowds who vilify Gatlin to glorify Bolt.
Hail, Gatlin!

Related commentaries:
Bolt's fairytale ending…
IOC strips Bolt of gold…
Drugs rampant…
Decriminalize drugs…
* This commentary was originally published at The iPINIONS Journal on Saturday, April 5