By Anthony L Hall
In a 'revolutionary' new proposal, European Athletics has recommended that all track and field world and European records set before 2005 should be removed from the record books.
It would mean Mike Powell's long jump world record, Florence Griffith-Joyner's 100-meter and 200 -meter world records and Britain's Paula Radcliffe's marathon world record would be scrapped…
Seb Coe, president of the sport's governing body — the International Association of Athletics Federations (IAAF) — told reporters the report was a 'step in the right direction [towards] winning back credibility in this area.'
(CNN, May 2, 2017)
Frankly, this makes about as much sense as the Soviet Union erasing discredited politicians from old photographs, hoping to give the regime more credibility.
The governing bodies of sports might think they can get all athletes to compete clean. But this is as naïve as the Catholic Church thinking it can get all priests to live celibate lives.
As it happens, I'm on record questioning the integrity of many of the records this proposal would affect, most notably those of Florence Griffith-Joyner (Flo-Jo).
Florence Griffith-Joyner set the world record of 10.49 in the women's 100m in 1988. But it seems unfair to hold today's sprinters to that standard. Because if the sophisticated tests we have today were available back then, I suspect they would have revealed that Flo-Jo fueled her way to that record on performance-enhancing drugs.
Moreover, no matter the autopsy report, it strains credulity to think that such drugs did not contribute to her early death at the very young age of 38.
("London Olympics: Day 8," The iPINIONS Journal, August 4, 2012)
Then, of course, there's the prevailing suspicion that steroids fueled every record any athlete from the Soviet Union or East Germany set back then.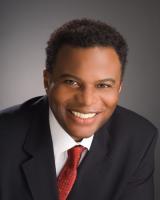 Anthony L. Hall is a Bahamian who descends from the Turks and Caicos Islands. He is an international lawyer and political consultant – headquartered in Washington DC – who also publishes a current events weblog, The iPINIONS Journal, at http://ipjn.com
Nonetheless, this proposal would impose too broad a punishing brush. After all, why should the steroids Flo-Jo might have taken to set the 100m in 1988 taint the record the presumptively clean Hicham El Guerrouj set in the 1500m in 1998?
Incidentally, the IAAF claims that 2005 is the year of reckoning because that's the year it began retaining samples for future testing — as more sophisticated techniques evolve.
Carl Lewis is the greatest Track and Field athlete since Jesse Owens — with all due respect to Usain Bolt. But Lewis would readily admit that, after drugs cheat Ben Johnson defeated him on the world stage, he derived little consolation from receiving Johnson's forfeited gold medal in relative obscurity.
Winning in this belated, forfeited fashion cannot possibly compensate for being robbed of the thrill of victory that comes with winning (in the arena) at the Olympics or World Championships. Not to mention the fame and fortune the latter brings lesser-known athletes.
Besides all that, the self-evident truth is that, no matter the testing or sanction, athletes will always cheat to gain a competitive advantage. And, as the Russian government demonstrated, many of them will have unlimited resources and technical expertise to aid them in doing so.
This is why I maintain that decriminalizing all performance-enhancing drugs is the only way to deal with them in sports.
Policing drugs in professional sports is not only Orwellian; it's utterly futile. After all … athletes have always, and will always, do or take anything that might give them a competitive advantage. And if what they do or take poses no harm to anyone except themselves, who cares?!
This enlightened attitude towards performance-enhancing drugs would have precluded the 'scandals' that now threaten the professional careers of Tour de France Champion Floyd Landis and Olympic (100m) Champion Justin Gatlin; to say nothing of sparing them international ridicule as pathetic liars and cheaters.
("A Plea for Landis, Gatlin, et al: Legalize Drugs … Especially in Sports," The iPINIONS Journal, August 3, 2006)
We should leave it to fans to assess the integrity of each sport in this enlightened context. And I suspect their verdict will be positive in each case:
Steroid use has flourished in Baseball and other professional sports pursuant to an open conspiracy among players and team owners. This, to feed the gladiatorial lust of fans who want to see stronger, faster athletic cyborgs perform for their atavistic enjoyment. And, of course, the more fans revel in their steroid-fueled feats of athleticism, the bigger the players' contracts (and even bigger the owners' bottom line) become.
("Barry Bonds Is a Steroid Junkie … Duh," The iPINIONS Journal, March 8, 2006)
Related commentaries:
London Olympics…
Doping strikes Usain Bolt…
Bonds steroid junkie…