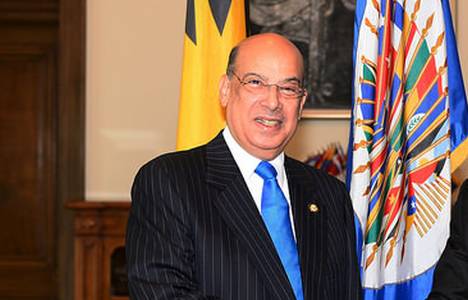 Ambassador Sir Ronald Sanders
By Caribbean News Now contributor
WASHINGTON, USA — Antigua and Barbuda's ambassador to the United States, Sir Ronald Sanders, has questioned the accuracy of the US State Department's 2017 International Narcotics Control Strategy Report (INCSR) at a meeting with officials of the Bureau of International Narcotics and Law Enforcement Affairs on Tuesday.
Sanders made this disclosure in an interview with ABS Radio and Television in Antigua.
Questioned during a live newscast by the station's newscasters, Sanders confirmed that he had a meeting with the State Department officials as a follow-up to his country's written objections to inaccuracies and unsourced misrepresentations in the 2017 INCSR.
While the ambassador was tight-lipped about the full content of his discussions, saying that "the matter would receive on-going attention", he revealed that he had questioned an unsubstantiated claim in the State Department report that that firearms trafficking is a "major source of illicit funds in the country".
Sanders said: "There is no evidence of firearms trafficking in Antigua and Barbuda; not a single gun is manufactured in our territory; and our crime rate, particularly gun-related crime is extremely low by any standard."
He also stated that the onshore banks in his country are examined and regulated by the reputable and independent Eastern Caribbean Central Bank (ECCB), and its offshore banks are prohibited by law from accepting cash deposits.
"In these circumstances," he said, "it would be impossible for untraceable money from firearms trafficking to enter or leave the banking system, and, if it did, it would require the complicity of overseas banks, which is highly unlikely."
Sanders said that his country could not afford to ignore the INCSR, since it is read by banks in the US with which the Antigua and Barbuda banking system relies for correspondent relations to settle transactions between the two countries. These transactions affect every person in Antigua and Barbuda.
"Therefore", he said, "anything that threatens correspondent banking relations harms the nation in myriad ways."
He added, "It would also affect the large balance of trade surplus which the US now enjoys with Antigua and Barbuda on an annual basis, providing revenues and jobs to the US."
In the meantime, Caribbean News Now is continuing to research the veracity of the INCSR by means of requests for relevant records submitted to a number of US government agencies under the Freedom of Information Act (FOIA).
Thus far, the Drug Enforcement Administration (DEA), in response to a FOIA request, has offered no support for the assertion in the INCSR that the Eastern Caribbean in general and Antigua and Barbuda in particular are major drug transshipment centres and that narcotics trafficking is a major source of illicit funds.
A FOIA request has also been submitted to the Bureau of Alcohol, Tobacco, Firearms and Explosives (ATF) in relation to the claim that firearms trafficking is a major source of illicit funds in Antigua and Barbuda.
A government official in another agency has described the statement that Antigua and Barbuda is a major firearms trafficking centre as "absurd".
Furthermore, as Sanders points out, since domestic and/or sub-regional banks in Antigua and Barbuda are tightly regulated by the ECCB and offshore banks are prohibited by law from accepting cash deposits, the inescapable inference to be drawn from the INCSR is that the three international banks operating there are responsible for the alleged major money laundering activities.
The three international banks in question are all branches or subsidiaries of three of the five largest Canadian banks: Canadian Imperial Bank of Commerce (CIBC), Royal Bank of Canada (RBC) and the Bank of Nova Scotia (Scotiabank).